SkidCar System™ Training
Solid fundamentals and experience are the two most important factors in becoming a safe driver. At I Drive Smart, drivers of all ages get both - training from the industry's most professional, qualified driving instructors along with a program that offers a unique, hands-on experience.
The Skid Avoidance and Basic Car Control Training Program uses the SkidCar System™, a specialized training vehicle used by the FBI, Secret Service and other national and international public safety entities. The SkidCar simulates spins and skids at low speed in a controlled environment allowing students to experience what it feels like to be in a vehicle that is about to go out of control and/or is out of control.

Goals of the 90-minute classes are:
To train students to become more proactive drivers by using their eyes more and their sense of touch less.
To train students to think more behind the wheel so they have to do less.
To train students so they are able to gain insight as a driver by driving "heads up" rather than with their attention relaxed.
To provide each student with a unique training experience so they are able to recognize the warning signs of the loss of vehicle control.
The SkidCar program is conducted at our Advanced Vehicle Training Site in Germantown:
20301 Century Blvd
Germantown, MD, 20874
Please make sure to visit and print out the detailed directions to this facility found on this page: Detailed Directions
See the SkidCar System in action (video)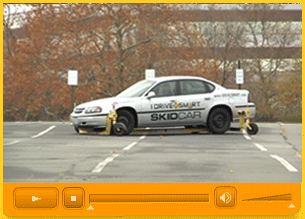 Requires Windows Media Player to view.
Download the latest version of Windows Media Player >>