Q: How old do I have to be to take driver education?
A: You can sign up and take the classroom portion of our driver-education program at any age. You do not need a learner's permit or license to take the classroom training. You are able to sit for the Learner's Permit test at age 15 years and 9 months. You do need a valid learner's permit or license in order to train with us (or anyone else) in a vehicle. For those who take the classroom training and in-car training with us, we recommend that you complete the classroom training first, if possible, since the knowledge-based training is an important foundation for behind-the-wheel training.
Q: Do I need to have a Learner's Permit to take driver education?
A: No. There is no minimum requirement to begin the driver education classroom training. You do not need a learner's permit to take the class. In fact, many of our students complete the entire 30 hours of classroom instruction prior to sitting for the learner's permit test
Q: How old should my student be to start the State Driver Education Program, and what is the best way to progress through the training?
A: There is no longer a minimum age requirement to begin the classroom training portion of our Driver Education Program. The Maryland Motor Vehicle Administration and I Drive Smart, Inc. recommend that students begin with the classroom portion of the Driver Education program, consisting of 30 hours of in-class instruction, to prepare for the MVA Learner's Permit Exam which a student can take at age 15 years and 9 months. The student can then complete the behind-the-wheel portion of the training after the Learner's Permit is obtained. It is best to stretch the training (with us as well as with the adult logging the supervised training) over a period of time to give each student the opportunity to absorb both the in-class and behind-the-wheel material.
Q: What if I miss a class?
A: Students are permitted under MVA guidelines to make up a missed class within a reasonable amount of time. If you miss an in-class session, you can log into your account and schedule a makeup session (choosing a location, date, and time that works best for you). We appreciate if you try to schedule makeup sessions prior to the class starting so that the instructor has an accurate roster for the class being missed.
Q: How old do I have to be to get a Learner's Permit in Maryland?
A: You must be 15 years and 9 months old to sit for the Learner's Permit test. You do not have to have taken Driver Education to get a learner's permit. You must study the Maryland Driver Handbook and take a test at a full service MVA location.
Q: How should I go about scheduling my in-car training. That is, what is the recommended approach?
A: We know that a student will get the most out of our program if he or she has time to practice between the sessions, implementing the suggestions provided by the instructor. For an inexperienced driver, our training should be in collaboration with private practice and guidance by the supervising driver. Providing some spacing between sessions allows the student time to integrate the coaching that we have provided with the guided instruction from a supervising driver (whether or not more time is needed for "logging" of hours). If you are working with us toward obtaining a license, please do not consider our training as something to "get out of the way." Rather, we advise clients to think of us as a partner in mastering a very complex skill where mistakes can be very dangerous and costly. For these reasons, while each client is unique, we generally do not recommend conducting more than two lessons in a week, allowing the critical time in between for the student to practice. A student who completes all required training and passes the Road Skill test months before he or she is Eligible for a Temporary license gains no benefit in "finishing early." The Eligibility Date (nine months after issuance of the learner's permit) still determines the earliest date that someone can become fully licensed, so there is no advantage to speeding up the process of completion with us.

When it comes to scheduling training, we have the following general recommendations:
If you see a session that works well for you in a desired time frame, jump on it since it may disappear if someone else schedules it before you do. Keep in mind that sessions become commitments that cannot be canceled once you are 72 hours prior to the session start time.
The sessions that book most quickly and are most desired tend to be:

Summer sessions since this is the highest-demand period for training
Weekends because these tend to be the most-available times for busy parents and students
Afternoons just after school completes as many students like to train directly from their schools after the school day
Evenings since these sessions sometimes fit best for working families and for students with after-school activities

Be very careful not to schedule too many sessions too close together for an inexperienced driver. Since our sessions lock in at 72-hours prior to the session start, you do not want to schedule multiple sessions in multiple sequential days since the feedback might include a need for heavier practice before coming back for another session. The back-to-back scheduling may create a situation in which you are within the 72-hour window for one or more sessions, meaning that they cannot be canceled. It is much better to have a buffer of time between sessions for some practice.
Q: How do I get my certification for the Driver's Skills Test?
A: The Maryland MVA no longer issues paper certificates to completed students to clear them to take the MVA Licensing Test. Certified schools such as I Drive Smart now enter the completed student's information into the MVA On-line Certification Web Interface. The MVA will have your student information in their system when you arrive on test day as long as you have completed all the required training, submitted your forms to I Drive Smart and have been cleared by I Drive Smart to schedule your test.

Once you have completed all the required course work for both the in-class training and the behind-the-wheel training, you must submit the following forms to the I Drive Smart office via the outlined submission process below:
1. Student In-class Completion Form/Record
2. Student Behind-the-Wheel Completion Form/Record
3. Student Answer Sheet (found in your student handbook)
4. Student MVA Bill of Rights Form (signed by parent or guardian)
5. Student In-car Evaluation Form
How do I submit my required Student Forms:

A: As of September 1, 2010 I Drive Smart tracks all required student forms via our on-line Event Management System. As a student progresses through both in-class and behind-the-wheel training, all data are entered by individual instructors which will automatically populate onto the appropriate form. Students only have to manage their Maryland Classroom Student Answer Sheet contained in your issued Student Manual. This sheet along with your book should be brought to all in-class training sessions so all answers, scores and instructor signatures can be documented. The answer sheet also serves as the student's receipt of attendance. DO NOT MISPLACE THIS ANSWER SHEET. All other documents are handled by the I Drive Smart Event Management System. Students and Parents can view student scores and attendance by logging into the User Account after each session.

Once a student has completed all training, he or she will be able to view all completed forms with scores and signatures showing 24-hours after their last training session via the User Account. Additionally, a completed student will receive an email instructing the student to do the following:

Step One: Once notified via the student's User Account, the student should download, print and view all forms.

Step Two: After all documents are signed by the student/parent/guardian, the forms should be submitted in one of the following methods:

Submission Methods:

Electronic Upload: Print and sign your forms, scan and upload directly into your User Account
See directions on the Upload Forms Page in your User Account.

Email: Students can scan and email to studentforms@idrivesmart.com

Fax: Students can fax clean copies to (800) 783-1183 (include a transmittal)

Mail: Mail the MVA white copies to:
I Drive Smart, Inc.
30 Court House Square, G-2
Rockville, MD 20850
Attention: Student Document Review

Once the student's documents have been received and approved by the office, the student will receive an email and a notice in the User Account clearing the student to schedule the licensing test at the Motor Vehicle Administration.

Q: What is the Graduated Licensing Program?
A: The program requires novice drivers to gain more driving experience with a supervising driver and gradually move up through the licensing process until full license status is achieved. Under the graduated licensing system, non-commercial license applicants, who have never held a driver's license, must progress through three licensing levels:
Level 1 = Learner's permit (15 years and 9 months)
Level 2 = Provisional license (After Driver Education)
Level 3 = Full license
Q: I have been trying to print the forms for four days from three different computers and if I am in Microsoft Explorer it kicks me out ; if I use Firefox, it says to wait (forever) for the form to download. Please advise.
A: We are sorry for your experience and share in your frustration. Occasionally, Adobe's software has glitches in certain browsers, and this is especially a problem for people on the Apple/Macintosh platform. If you are having problems seeing the forms to print them out, there is a potential work-around solution to address your issue. Instead of trying to view the document through the browser, try to download the file to your computer. Make sure to remember where on your hard drive you choose to save the file so that you can find it later. Once downloaded, you should be able to open the PDF file with Adobe Reader software (no browser involved at this point), view the information, and print it. please follow the below steps:
In Firefox, choose Tools > Options
In the Options dialog, click Applications.
In the Applications tab, type PDF in the search field.
For Portable Document Format (PDF) content type in the search result, select Use Adobe Acrobat (in Firefox) from the Action drop-down list.
If you see a button in the upper-right corner called "Open with a Different Viewer," click on this button.
Click OK.
Restart Firefox.
Configure Chrome
In Chrome, go to chrome://plugins/.
Click Disable under Chrome PDF Viewer, and click Enable under Adobe PDF Plug-In.
Clicking the button should launch the dialog box below, permitting you to Save File to your computer (please note the location for later retrieval):
If you do not see the "Open with a Different Viewer" button, you may see an icon in the upper right section with an image of an icon with an error on it. It should look like this:
Clicking on this "Download" icon is another way to launch the dialog box allowing you to save the file.
A third way to try to download and save the file is to use the right button on the mouse and click somewhere on the page that is not displaying, then choose "Save Page As…". This should also launch the dialog box allowing you to save the file. A screen shot below shows the menu that should pop up when you right click on the screen area where the document should be displaying:
​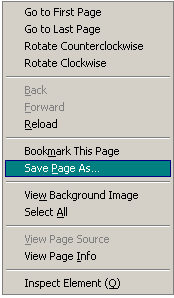 While Adobe promised that they will fix the "browser bug," we can't just wait for them to solve it, so we are hoping that these instructions will address the challenges that you have been experiencing. If you continue to have problems downloading your form, please let us know. Good luck, and thank you for choosing I Drive Smart!

To learn more about the requirements and recommendations for new or experienced drivers in Maryland, visit:
Maryland MVA >>