Our Partners
I Drive Smart proudly partners with the following companies to bring more resources and services to our students and families.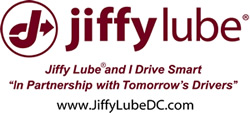 Jiffy Lube
Driver training and vehicle maintenance go hand-in-hand in keeping drivers safely on our roadways. Your local Jiffy Lube stores have partnered with I Drive Smart to provide area teen drivers with the skills and knowledge they need to be responsible and safe on our roadways.
From training centers to driving schools to government agencies, the SkidCar System™ is widely used across America, Canada and the world. SkidCar International is proud to partner with I Drive Smart in delivering continued quality instruction to drivers of all ages.